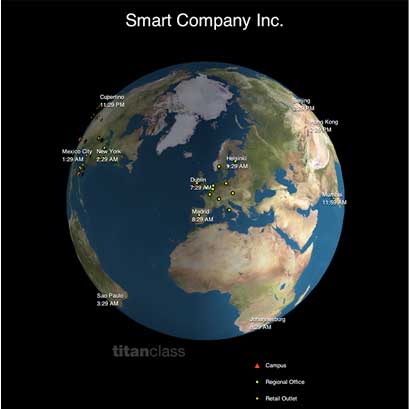 The Power of Global Vision for the Corporate World
The majority of your potential and existing clients have no real idea of your organisation's operations. That also goes for your employees, suppliers, public and various stakeholders. Corporate brand awareness is one of the primary keys to profit. Terms such as, "I did not realise you did that", "If only I had known", "I did not know that you were in so many places" and "I did not realise that I work for an organisation that did so many things or was in so many countries" can cost millions of dollars in lost revenue every year.
Titan Class Vision helps address the above issues at a fraction of the cost of traditional methods.
Titan Class Vision displays an enterprise's unique global presence and brand across stunning satellite imagery. Vision will impress and captivate audiences in boardroom, reception, common and public areas.